Chris Askins, DVM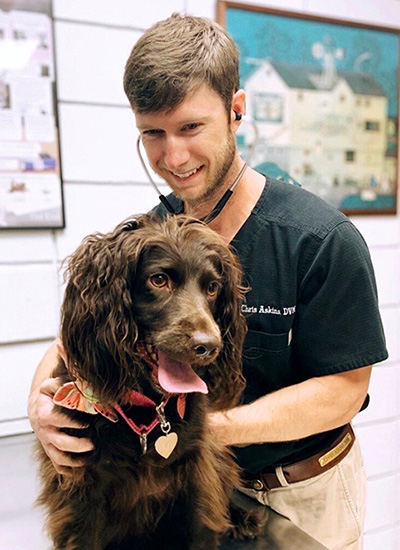 Dr. Chris Askins, owner of Sweetgrass Animal Hospital, is thrilled to be serving his hometown of Summerville. As a young boy, he and his family moved around a lot before settling down here. Dr. Askins says that at 10 years old, he realized he wanted to become a veterinarian. "Friends came and went but pets stayed with us, so I've always felt a strong connection with my pets and grew to really care about them as part of the family", he explained.
Dr. Askins earned his bachelor's degree in 2013 from Clemson University where he studied animal and veterinary sciences. He went on to attend Ross University School of Veterinary Medicine in St. Kitts and finished with clinicals at the University of Florida. Dr. Askins earned his Doctorate of Veterinary Medicine in 2017, graduating with honors. After graduation, he worked as a 24-hour mixed animal practitioner in Crystal River, Florida. Here, Dr. Askins worked on everything from horses, cows, goats, pigs to cats and dogs. Finally, in 2019, he returned home and worked in Hanahan until given the opportunity to move to Sweetgrass Animal Hospital.
Dr. Askins says that his favorite part about being a veterinarian is caring for the animals to ensure they have a long and healthy life with their families. He sees pets as part of the family, treats them as part of the family, and wants them to live happily with their family as long as they can.
Dr. Askins is a member of the American Veterinary Medical Association. His professional interests include soft-tissue surgery, dermatology, and preventative care. When asked how he brings his personal values into his professional life, Dr. Askins says that he carries his honesty and family values with him every day. He strives to build long-term relationships with his clients to make sure that every person and their pets feel like family the moment they walk into the door.
At home, Dr. Askins has a 7-year-old Boykin Spaniel, Whaley and lives with a 3-year old Boykin Spaniel, Roux. In his free time, Dr. Askins enjoys going to the gym, fishing, taking the boat on the water, and spending quality time with family and friends.