Preventive Veterinary Medicine
When you bring your pet to Sweetgrass Animal Hospital in Summerville, we work with you to create a lifetime preventive veterinary health care plan. This includes a balanced schedule of vaccines, regular dental care, preventative care and yearly lab diagnostics. We also provide internal medicine services, nutritional and behavioral counseling, general and orthopedic surgery, advanced diagnostic testing capabilities and much more.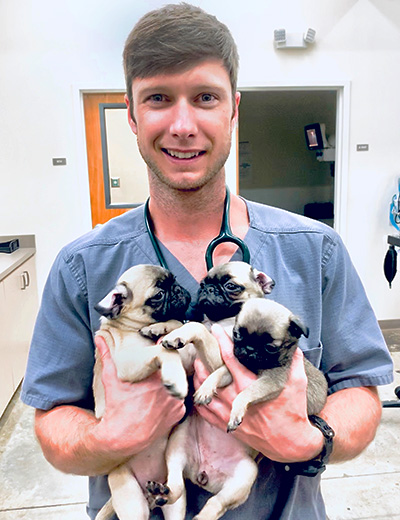 The hospital's commitment to you and your pet's health begins with an annual examination which includes:
Examining your pet's teeth, throat and oral cavity
Checking your pet's vision and eyes
Examining ears for infection, ear mites, allergic reaction and other related health issues
Assessing your pet's heart and cardiac function
Examining the skin
Palpating lymph nodes and abdomen
Examining the respiratory system
Evaluating internal organ function and other systems
Monitoring your pet's blood count and serum chemistry
Performing laboratory tests to determine the presence of specific diseases
Assessing changes in your pet's health since the last wellness visit
Fecal check for the presence of intestinal parasites
During each examination, we also take the time to listen to your concerns, answer your questions and keep you up to date on all the information you need to be the best caregiver to your pet. Good communication between you and your pet's doctor ensures that your beloved companion is receiving the optimal care and attention that he deserves so that he can live a long and healthy life.
Preventative Care Profiles
Sweetgrass Animal Hospital recommends yearly preventative care profiles that are customized for canine and feline patients. These affordable profiles check organ function with blood counts, blood chemistry profiles, thyroid levels in cat and urinalysis. The preventative care profiles also screen for heartworm disease, tick borne diseases in dogs (Lymes, Ehrlichia and Anaplasma), FIV/FeLV status in cats and fecal parasite testing.
Why is this important?
Urinalysis (UA): UA testing checks for a wide range of disorders such as urinary tract infections, kidney disease and diabetes.
Blood Chemistry and CBC: Blood tests allow us to learn more information about your dog or cat's health which can only be found by studying the blood sample. A CBC for dogs identifies and quantifies white blood cells, red blood cells and platelets in a given amount of blood. For example, if dog blood tests show a deficiency in albumin levels, then a veterinarian knows to examine a dog's liver because albumin is produced in the liver.
Thyroid Levels: Checking your cat's thyroid level is making sure your cat is not suffering from thyroid disease. The most common thyroid disease in cat's is hyperthyroidism. This presents with many symptoms such as weight loss, unkempt coat, vomit, diarrhea, increased water intake and appetite, and etc.
Fecal Parasite Testing: Fecal Testing is recommended at least 1-2 times a year by the Companion Animal Parasite Council. Sending a small amount of feces to the lab will rule out if your pet has any internal parasites like hookworms, roundworms, whipworms and etc. Internal parasite can be harmful to your human family members, so making sure your pet is tested yearly and on prevention is the safest way to avoid problems.
Heartworm Screening: Heartworms are spread by mosquitoes, and are a serious threat to the well-being of your pet. In the south, we are a hot spot for heartworms year round. The American Heartworm Society guidelines are testing yearly and year round prevention. Symptoms of heartworm disease are not always immediately apparent. Some dogs may show no signs of the disease while others may exhibit clinical signs, such as: Cough, Decreased in exercise, Fatigue, Weight Loss and Reduced Appetite.
Blood Parasite Testing/Tick Borne Diseases: Tick Borne Diseases are very common in the Tri County Area. It is hard to find ticks on your pet with their thick coats, so pet owners might not know that their dog or cat has been exposed to a tick disease. We test dogs for lymes, ehrlichia and anaplasma which are the most common in the area. The best way to prevent tick borne diseases in your pet is to have them on year round prevention.
Feline Leukemia Virus (FeLV): FeLV is one of the most important infectious viruses in cats. FeLV is responsible for a number of diseases in cats including leukemia. FeLV is highly contagious and is transmitted through body fluids.
Feline Immunodeficiency Virus (FIV): FIV is another virus that is specific to cats. FIV reduces the capacity of the cat's immune system to respond to other infectious agents. FIV is highly contagious and is transmitted primarily through cat bite wounds.