How Important is Brushing Your Pet's Teeth?
The short answer from your Summerville SC Vet is: yes! Just like every animal with teeth, there is a large world of bacteria, the potential for infections, and other problems inside the mouth if preventative measures are not taken.
My Pet's Teeth Don't Look Dirty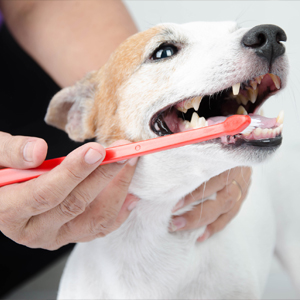 Your pet has a special ability to clean their teeth without using dental products. The saliva in a dog's or cat's mouth is very complex, helping to bring back essential nutrients to the enamel of their teeth, while also helping to break down food particles. There are now also toys and treats that can help to clean teeth. It is important to ask your vet which ones are best for your pet's individual needs. These unique traits of your pet's mouth paired with toys and treats usually help maintain healthy teeth, but it is vital to take precautionary steps to help ensure your pet has a long, happy life.
To Brush or Not to Brush
Make sure your pet gets as comfortable as possible with you looking at their mouth, teeth, and gums. This will get them used to have their teeth brushed and you can start making sure their oral health is in solid shape moving forward. Start doing this with your pet at an early age, and reward your pet with treats after behaving well after you peer into their mouth.
If you see any yellowing or black spots on your pet's teeth, it is important to take them to our office. Other signs, such as your pet not chewing or eating much, may be caused by an oral issue.Daily brushing is not essential, but ideally at least once or twice a month to maintain oral health. This paired with a dental-friendly diet and treats, along with annual wellness visits, can help curb any oral issues that may arise. Just small steps can help your pet's mouth, teeth and overall health! If you think your pet needs a professional teeth cleaning, or you would like to learn how to brush your pet's teeth, make sure you give us a call today at (843) 225- WOOF(9663).