Preventive Veterinary Medicine
When you bring your pet to Sweetgrass Animal Hospital in Summerville, we work with you to create a lifetime preventive veterinary health care plan. This includes a balanced schedule of vaccines, regular dental care and microchip identification. We also provide internal medicine services, nutritional and behavioral counseling, general and orthopedic surgery, advanced diagnostic testing capabilities and much more.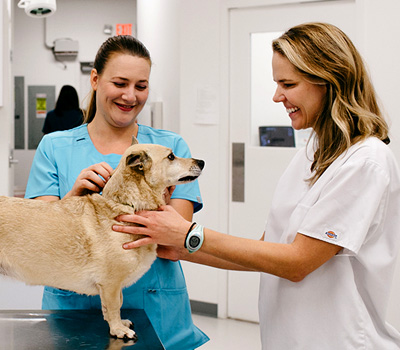 The hospital's commitment to you and your pet's health begins with an annual examination which includes:
Examining your pet's teeth, throat and oral cavity
Checking your pet's vision and eyes
Examining ears for infection, ear mites, allergic reaction and other related health issues
Assessing your pet's heart and cardiac function
Examining the skin
Palpating lymph nodes and abdomen
Examining the respiratory system
Evaluating internal organ function and other systems
Monitoring your pet's blood count and serum chemistry
Performing laboratory tests to determine the presence of specific diseases
Assessing changes in your pet's health since the last wellness visit
Fecal check for the presence of intestinal parasites
During each examination, we also take the time to listen to your concerns, answer your questions and keep you up to date on all the information you need to be the best caregiver to your pet. Good communication between you and your pet's doctor ensures that your beloved companion is receiving the optimal care and attention that he deserves so that he can live a long and healthy life.
Parasite Prevention and Control
Parasites can be real pests. Both external (fleas, ticks) and internal (heartworm, hookworm, roundworm) parasites can cause problems for both your pet and your family. Prevention is the best approach to eliminating these pests. Please ask your veterinarian for the best way to avoid parasite problems.
Preventing Heartworm Disease
Spread by mosquitoes, heartworm disease is a serious threat to the well-being of your pet. Fortunately, protective medications exist to prevent heartworm disease and to help keep your companion healthy and happy. Dr. Shannon recommends administering preventive medication once-a-month, all-year long.
Symptoms of heartworm are not always immediately apparent. Therefore, it can be difficult to detect in your pet. Some dogs may show no signs of the disease while others may exhibit clinical signs, such as:
Mild, persistent cough
Reluctance to move or exercise
Fatigue after only moderate exercise
Reduced appetite and/or weight loss
North Charleston Flea and Tick Prevention
Like most pet owners, you probably enjoy spending quality time outdoors with your furry friend. While doing so may be fun, you may be exposing your pet to pesky parasites like fleas and ticks that can spread diseases and threaten the health of your pet and your family.
Prevention is the best approach for keeping your pets and family safe. Ask a staff member at Sweetgrass Animal Hospital for the best way to avoid parasite problems in your pet. We carry a wide range of internal and external parasite prevention products, including:
Heartgard: Monthly flavored chewable tablet for dogs. Protection against heartworms, controls roundworms and hookworms.
Trifexis: Monthly chewable tablet for dogs that kills fleas and prevents infestations. Also, protects against heartworms and controls adult hookworms, roundworms and whipworms.
Simparicia: Monthly fast-acting chewable tablet for dogs that kills and prevents fleas and ticks within hours of administration.
Comfortis: Monthly beef-flavored chewable tablet that kills fleas and prevents infestations on dogs and cats. Starts to kill fleas in 30 minutes.
Nexgard: Monthly chewable tablet that kills adult fleas and prevents flea infestations along with American dog tick infestations. Used for dogs and puppies 8 weeks of age and older weighing over 4 pounds.
Revolution: Monthly topical medication for cats. Protection from heartworms, fleas and ear mites. Also, controls roundworms and hookworms.
Cheristin: Monthly topical medication for cats that kills fleas. Takes effect within 12 hours of application.
At Sweetgrass Animal Hospital, we believe in using products that provide the most complete protection. Because parasite sensitivities evolve over time and newer preventive products are developed regularly, we recommend that you keep your pet up-to-date with the latest preventive care. Speak with your veterinarian to learn more about the most recent product information.
Summerville Pet Vaccinations
Vaccinations are not only safe and effective; they are a fundamental piece of your pet's preventive health-care plan. Advances in veterinary immunology have made diseases that once were relatively common and fatal to pets easily preventable. Additionally, with each passing year, veterinary science is improving on existing vaccines as well as increasing the ability to prevent an even wider array of contagious diseases.
At Sweetgrass Animal Hospital, we have developed a protocol designed to protect your pet from the diseases he or she is most likely to be exposed to in this region of South Carolina. We work with you to develop a strategy that takes into account your pet's unique lifestyle and risk factors. We seek to administer the least number of vaccines necessary to protect your pet.
We truly believe that a carefully balanced approach is the best means to prevent infectious disease and the possibility of your pet having an adverse reaction to a vaccine. We follow the following veterinary vaccination protocols: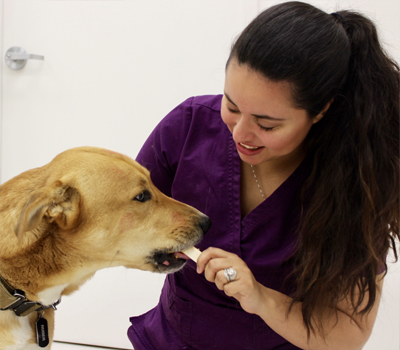 Core Vaccines for Puppies and Adult Dogs:
DHPP or DHLPP
Bordatella
Rabies
Other Available Vaccines for Puppies and Adult Dogs:
Core Vaccines for Kittens and Adult Cats:
Other Available Vaccines for Kittens and Adult Cats: