Wendy Tanner, Office Manager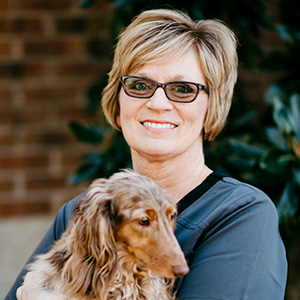 Wendy Tanner is the office manager at Sweetgrass Animal Hospital, where she brings over 25 years of experience in the animal-care field. She began her career as a receptionist and veterinary assistant, and over the years worked her way up to manager. Wendy's job responsibilities include office oversite, hiring new staff members and resolving client issues. She has excellent management skills and a wide
knowledge regarding animal care. Wendy's favorite part of the job is providing outstanding care for clients and their pets.
"The staff at Sweetgrass Animal Hospital has a great 'family-type' working relationship," Wendy says. "Our teamwork helps ensure that all of our clients and their pets receive the best care possible."
At home, Wendy has a 5-year-old Daschund named Harper, a 3-year-old mix breed dog named Lettie, a 12-year-old domestic shorthair cat named Hoya and a 2-year-old Highland Lynx named Reigns. She spends her free time with her family and friends, horseback riding, hiking and taking her dogs for walks.
Nichole Balmonte, Veterinary Assistant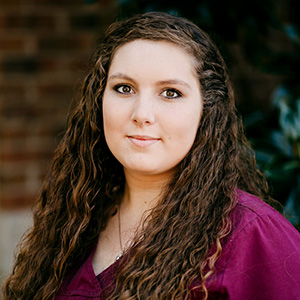 Nichole Balmonte has been a veterinary assistant at Sweetgrass Animal Hospital since April 2016. Her responsibilities include clerical duties, drawing blood, assisting with veterinarians and technicians during appointments and communicating with the hospital's clients. Nichole has a passion for animals, and her bubbly personality makes her a great communicator and effective veterinary assistant. She plans to pursue a degree in veterinary technology at Trident Technical College.
"I enjoy helping others as much as I can," Nichole says. "Everyone at Sweetgrass Animal Hospital cares about each pet that comes through the doors, and they take each pet's health into consideration. Here, I don't have a job, but a career that I can grow in and learn from. I have a family."
Nichole has a pet fish and a cat named Babygirl. She also shares her home with the family dog, a boxer/hound mix. Nichole previously competed in horseback riding and showed horses. She has also interned at the South Carolina Aquarium. Nichole enjoys spending time with her fiancé, Eric, and their two children, Noah and Emberly. In her free time, she enjoys relaxing and watching Netflix, or spending time with her mom shopping.
Sam Palmer, Veterinary Assistant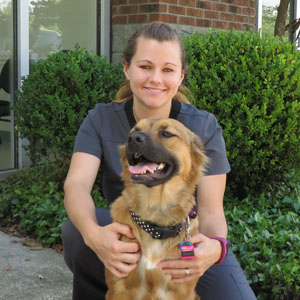 Sam Palmer has been a member of the Sweetgrass staff since March 2017. While working full time as one of our renowned veterinary assistants, Sam will make sure your pets are comfortable in every situation. She enjoys working along side our experienced veterinarians, and educating our clients with all the information they'll need to know.
Sam puts the same care towards every animal that she would for her own pet. She owns a 1 year and 6 month old German Sheppard, who she loves dearly. Sam enjoys working at Sweetgrass Animal Hospital because of all the interesting cases that come in, and the quality of clientele she interacts with. She loves assisting with surgeries, and helping out where ever she can.
In her free time, Sam focuses on being an outstanding mother. She loves to bake cookies and prepare meals. Sam also loves training her dog and enjoys horse riding.
Jennifer DeCosta, Veterinary Assistant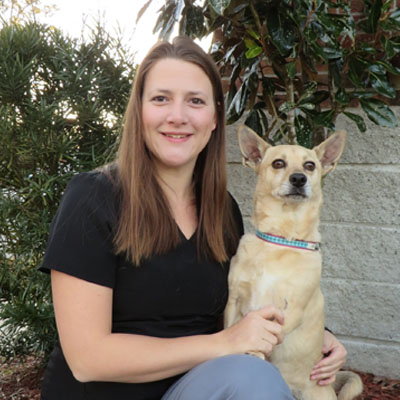 Jennifer DeCosta has been working for Sweetgrass Animal Hospital since October 2014. Before her involvement at Sweetgrass, Jennifer had been working in the field of veterinary practices for 13 years. Throughout those years, she developed a keen understanding of veterinary procedures and treatments. Jennifer is a certified Phlebotimist through Trident Tech, and she loves doing lab work.
At our veterinary hospital, Jennifer handles client education, reassuring all of our clients about the information they need to know. She also takes vital signs, does nail trimmings, processes lab work, cleans, gives vaccinations, helps with surgical monitoring, and much, much more.
Jennifer has a lovely pet of her own named Abigail. The bond between these too is virtually inseparable, as Jennifer is a great provider and care-tender for her 13 year old chihuahua mix. She loves working with Sweetgrass because of the noticeable love and care shown to all pets that come in. In her free time, she can usually be found chasing after her 4 year old daughter. They both like to read and go to museums together.
Emily Garrison, Veterinary Assistant
Emily Garrison joined the team at Sweetgrass Animal Hospital in May 2017. As a veterinary assistant, her responsibilities include assisting veterinarians and client education. Emily has been in the animal-care field since 2014 and enjoys assisting in surgical procedures. She holds a Bachelor of Science degree in Marine Science from University of South Carolina and is currently enrolled in a medical laboratory tech program.
"I love doing everything that I can to help animals since they cannot help themselves," Emily says.
At home, Emily has a 2-year-old boxer/shepherd mix named Riley and a 6-month-old Doberman pincher named Hunley. She enjoys taking her dogs to her parent's pool so they can swim all of their energy out. Emily also enjoys napping, swimming, tanning and walking her dogs.
Patricia Robish, Veterinary Assistant
Patricia Robish is a Veterinary Assistant that joined the team in September 2017. Her daily tasks include cleaning the exam rooms and office, restocking equipment, cleaning cages, holding animals for vaccines, drawing blood, and X-rays. Her favorite parts of the job are holding the dogs during procedures, and wrapping up surgery equipment. Patricia is always ready to learn new things and is a fantastic listener, which makes her a great asset to the team and patients. She hopes to someday own a farm or a rescue shelter of her own.
She has a Pit Bull German Shepard mix named Princess Leia who is three years old, a 11-month- old chihuahua Shih Tzu mix named Padme, and two red ear slider turtles named Michelangelo and Raphael who are both four years old. In her spare time, she loves taking her dogs for walks at the park, reading, drawing and spending time with her family hiking or watching Game of Thrones!
Stacey Ann Player, Veterinary Assistant
Stacey is a Veterinary Assistant at Sweetgrass Animal Hospital. She helps the veterinarians with a myriad of tasks, including drawing blood, putting in catheters and holding animals during exams. Stacey is very passionate about animals and teamwork, making her the perfect asset to the Sweetgrass staff. She loves how nice and clean the hospital is as well as the great teamwork mentality from everyone. When she isn't in the hospital, Stacey can be found visiting her family and gran-babies, going to the beach and playing with her two mini-schnauzers!
Molly Hoelscher, Receptionist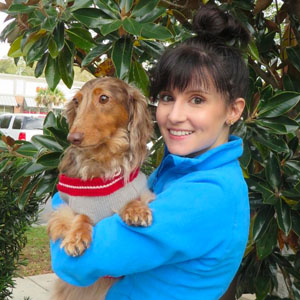 Molly Hoelscher joined our Sweetgrass Animal Hospital team in July of 2017, and since has been working full-time as one of our exceptionally friendly receptionists. Molly is responsible for checking clients and patients in, scheduling appointments, and other office duties. She brings with her good listening skills and an empathetic outlook everyday she comes to work.
Molly initially studied social work and psychology in college, but decided to find a profession she would enjoy more. After attending cosmetology school, Molly obtained her license as a NYS cosmetologist. Before working with us, Molly volunteered at an animal rescue shelter called HEART, in New York for a year.
Away from the Sweetgrass, Molly enjoys spending her free time decorating, doing yoga, thrifting, swimming in the ocean, and the practicing her knowledge of the beauty industry. She likes pet sitting, and aspires to own a long-haired dachshund someday.
Paige N. Blakely, Receptionist
Paige is the first person you will likely see at Sweegrass Animal Hospital. She will help you and your pet check in and out of the hospital, as well as help plan your next visit! Paige is passionate about animals and loves that the staff feels the same way! She is currently enrolled in Penn Foster's Veterinary Technician Program. At home she owns two dogs and two guinea pigs, and in her spare time she also enjoys playing piano. She always strives to provide every you and your pet the best experience possible every time you come into our office. Her positive attitude is contagious and her work ethic is superb. She cannot wait to greet you with a smiling face when you walk into Sweetgrass!
Jordyn Whitlaw, Client Care Coordinator
Jordyn is a part-time client care coordinator at Sweetgrass Animal Hospital. She received her bachelor's degree from Clemson University, and is currently studying at Penn Foster. Some of her responsibilities include keeping the clinic active on Facebook, establishing client relationships, assisting with paperwork, and scheduling appointments. Jordyn loves interacting with clients and contributing to the healing process of their animals.
In her free time, Jordyn enjoys camping, hiking, gardening, cooking, and taking trips to the beach. She has a 2-year-old domestic shorthair cat named Bagheera.