Wendy Tanner, Office Manager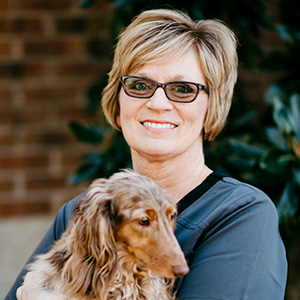 Wendy Tanner is the office manager at Sweetgrass Animal Hospital, where she brings over 25 years of experience in the animal-care field. She began her career as a receptionist and veterinary assistant, and over the years worked her way up to manager. Wendy's job responsibilities include office oversite, hiring new staff members and resolving client issues. She has excellent management skills and a wide
knowledge regarding animal care. Wendy's favorite part of the job is providing outstanding care for clients and their pets.
"The staff at Sweetgrass Animal Hospital has a great 'family-type' working relationship," Wendy says. "Our teamwork helps ensure that all of our clients and their pets receive the best care possible."
At home, Wendy has a 5-year-old Daschund named Harper, a 3-year-old mix breed dog named Lettie, a 12-year-old domestic shorthair cat named Hoya and a 2-year-old Highland Lynx named Reigns. She spends her free time with her family and friends, horseback riding, hiking and taking her dogs for walks.
Valerie Claeys, Veterinary Assistant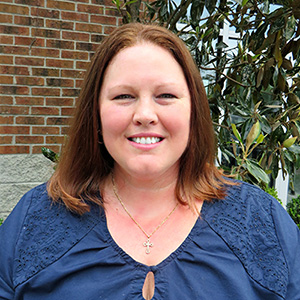 Valerie Claeys joined the medical team at Sweetgrass Animal Hospital in March 2017. She is a certified veterinary technician who holds an Associate degree in Veterinary Technology from Trident Technical College. Valerie is enthusiastic, compassionate, knowledgeable and cheerful, and her favorite part of the job is assisting during dental exams and surgical procedures. She has been in the animal-care field since 2013.
"I enjoy working at Sweetgrass Animal Hospital because it is a family-friendly practice where you feel at home," Valerie says.
At home, Valerie has three dogs named Gizmo, Molly and Shelby, as well as three cats named Sasha, Bosco and Xavier. Outside of the hospital, she lends her experience with animals as a volunteer to animal shelters. Valerie enjoys reading supernatural-type books, gardening, boating and riding motorcycles. She is also active in cub scouts.
Nichole Balmonte, Veterinary Assistant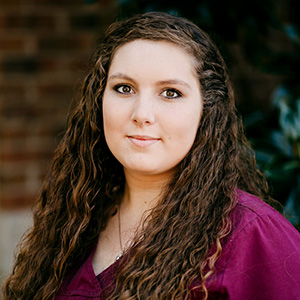 Nichole Balmonte has been a veterinary assistant at Sweetgrass Animal Hospital since April 2016. Her responsibilities include clerical duties, drawing blood, assisting with veterinarians and technicians during appointments and communicating with the hospital's clients. Nichole has a passion for animals, and her bubbly personality makes her a great communicator and effective veterinary assistant. She plans to pursue a degree in veterinary technology at Trident Technical College.
"I enjoy helping others as much as I can," Nichole says. "Everyone at Sweetgrass Animal Hospital cares about each pet that comes through the doors, and they take each pet's health into consideration. Here, I don't have a job, but a career that I can grow in and learn from. I have a family."
Nichole has a pet fish and a cat named Babygirl. She also shares her home with the family dog, a boxer/hound mix. Nichole previously competed in horseback riding and showed horses. She has also interned at the South Carolina Aquarium. Nichole enjoys spending time with her fiancé, Eric, and their two children, Noah and Emberly. In her free time, she enjoys relaxing and watching Netflix, or spending time with her mom shopping.
Kaitlin Holladay, Veterinary Assistant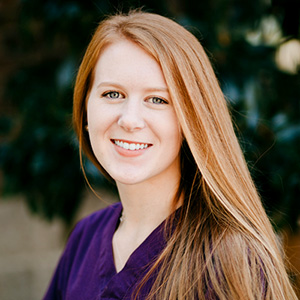 Kaitlin Holladay joined the staff at Sweetgrass Animal Hospital in September 2016. As a veterinary assistant, she is responsible for drawing vaccines, assisting the veterinarians and technicians during appointments and a range of computer tasks. Kaitlin's favorite parts of the job are interacting with animals on a daily basis and being a part of a great staff.
"I like how the staff at Sweetgrass Animal Hospital all comes together and works as a team," Kaitlin says. "Everyone helps each other out."
At home, Kaitlin has a Chihuahua named Tink. In her free time, she enjoys hiking and anything outdoors or on the lake.
Sam Palmer, Veterinary Assistant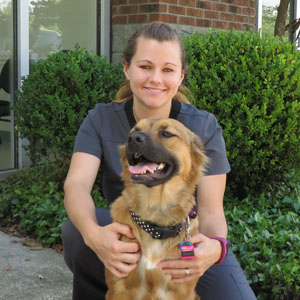 Sam Palmer has been a member of the Sweetgrass staff since March 2017. While working full time as one of our renowned veterinary assistants, Sam will make sure your pets are comfortable in every situation. She enjoys working along side our experienced veterinarians, and educating our clients with all the information they'll need to know.
Sam puts the same care towards every animal that she would for her own pet. She owns a 1 year and 6 month old German Sheppard, who she loves dearly. Sam enjoys working at Sweetgrass Animal Hospital because of all the interesting cases that come in, and the quality of clientele she interacts with. She loves assisting with surgeries, and helping out where ever she can.
In her free time, Sam focuses on being an outstanding mother. She loves to bake cookies and prepare meals. Sam also loves training her dog and enjoys horse riding.
Jennifer DeCosta, Veterinary Assistant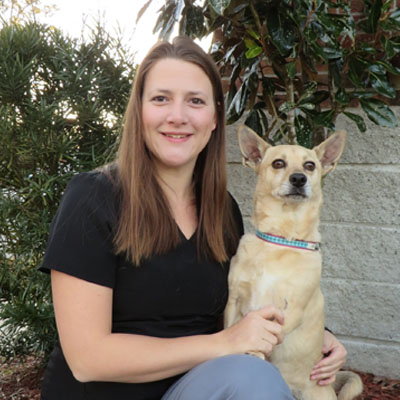 Jennifer DeCosta has been working for Sweetgrass Animal Hospital since October 2014. Before her involvement at Sweetgrass, Jennifer had been working in the field of veterinary practices for 13 years. Throughout those years, she developed a keen understanding of veterinary procedures and treatments. Jennifer is a certified Phlebotimist through Trident Tech, and she loves doing lab work.
At our veterinary hospital, Jennifer handles client education, reassuring all of our clients about the information they need to know. She also takes vital signs, does nail trimmings, processes lab work, cleans, gives vaccinations, helps with surgical monitoring, and much, much more.
Jennifer has a lovely pet of her own named Abigail. The bond between these too is virtually inseparable, as Jennifer is a great provider and care-tender for her 13 year old chihuahua mix. She loves working with Sweetgrass because of the noticeable love and care shown to all pets that come in. In her free time, she can usually be found chasing after her 4 year old daughter. They both like to read and go to museums together.
Emily Garrison, Veterinary Assistant
Emily Garrison joined the team at Sweetgrass Animal Hospital in May 2017. As a veterinary assistant, her responsibilities include assisting veterinarians and client education. Emily has been in the animal-care field since 2014 and enjoys assisting in surgical procedures. She holds a Bachelor of Science degree in Marine Science from University of South Carolina and is currently enrolled in a medical laboratory tech program.
"I love doing everything that I can to help animals since they cannot help themselves," Emily says.
At home, Emily has a 2-year-old boxer/shepherd mix named Riley and a 6-month-old Doberman pincher named Hunley. She enjoys taking her dogs to her parent's pool so they can swim all of their energy out. Emily also enjoys napping, swimming, tanning and walking her dogs.
Debra Ervin, Client Care Coordinator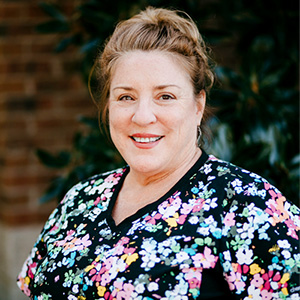 Debra Ervin is Sweetgrass Animal Hospital's client care coordinator. Her responsibilities include checking patients in and out, scheduling appointments, clerical work and assisting clients in anything they might need. Debra has been in the animal-care field since 2003, and she brings a positive attitude to work each day.
"Sweetgrass Animal Hospital has a very positive and well-informed staff," Debra says.
At home, Debra has a collie named Autumn, a Belgian sheepdog named Kayla, a Jack Russell beagle named Penny, and three cats named Huey, Addison and Lulu. In her free time, she enjoys going on outings with her dogs.
Nikki Walling, Client Care Coordinator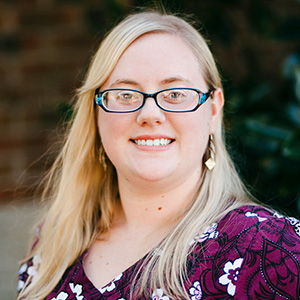 Nikki Walling became a client care coordinator at Sweetgrass Animal Hospital in October 2016. Before joining the staff, she worked in various roles in the animal-care field including manager, kennel manager, receptionist, and a pet store department manager. Nikki's daily responsibilities include greeting clients, collecting records, answering phone calls and creating a warm and friendly environment for owners and pets alike.
"I like the close-knit family feel amongst the staff at Sweetgrass Animal Hospital," Nikki says. "We all work together like a well-oiled machine."
At home, Nikki has two dogs named Sir Percy and Leo, and six cats named Alice, Aurora, Mickey, Nanner, Jodi and Shadow. In her free time, she enjoys baking, playing video games and teaching new tricks to Leo.
Joyce Fucci, Client Care Coordinator
Joyce Fucci joined the client services team at Sweetgrass Animal Hospital in June 2017. Her responsibilities as a client care coordinator include greeting clients and pets, updating records, answering phones and checking out clients. Joyce has many years of customer service experience and a close attention to detail. Her favorite part of the job is meeting new people and interacting with pets.
"I look forward to bonding with clients and their pets in a small-practice setting," Joyce says.
At home, Joyce has a 16-year-old Tortoiseshell cat named Rosie. Her interests include listening to music, going for walks, playing with her grandchildren, gardening, reading, cooking, relaxing at the beach and spending time with her family.
Ace, Patient Greeter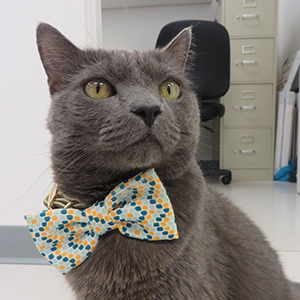 Ace is Sweetgrass Animal Hospital's full-time patient greeter—a job he's held his entire life. Each day, Ace makes sure all of our patients feel welcome and comfortable once they walk through the doors. Ace is also responsible for stealing Wendy's chair when she's not looking. Looking dapper at all times, his favorite part of the job is eating and sleeping.
"Meow," says Ace.
Ace has several stuffed goldfish that he considers as pets, and his favorite pet-related hobby is begging for cat treats. He spends his free time sleeping, eating, and walking around the clinic.